Full Channel TV, Inc.
1982-2001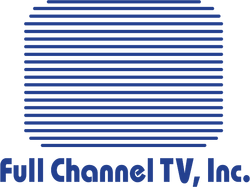 This was the original logo of the Rhode Island cable television company serving Bristol County.  The blank raster was Full Channel's symbol until it was replaced in 2002.
FCTV Plus!
2002-2004 
In 2002 Full Channel launched high-speed Internet and digital cable. The company briefly used the alter ego FCTV Plus! to market these new, advanced services.
Full Channel
2004-present
In 2004, Full Channel dropped the word "TV" from its moniker and released its present logo iteration with the three pronged wave consisting of circles followed by the stylized "FULLCHANNEL" in all capital letters.