This page only shows primary logo variants.
For other related logos and images, see:
Contents

2009
2010
2011-2012
2013
2009-2010
2009
Furo MTV debuted in March 3, 2009, with the new MTV Brasil programming for this year. Originally the show was hosted by the comedians Dani Calabresa and Bento Ribeiro. Is a satiric news show like The Daily Show, nevertheless, Furo has a distinct format. The two comedians are represented at the opening of the program by drawings, betting a race to stumble and form the show logo. The logos play with the ambiguity of the word furo, which has both the meaning of hole and scoop in Portuguese.
2010
In 2010, MTV subtly changed the appearance of the show logo, removing the unified visual identity used at all the MTV Brasil' shows between 2008 and 2009.
2011-2012
In 2011, the show visual identity has changed radically. Created by Carlos Bêla and Righini, the words used in the title sequence ("Other" page) refer to the newspaper headlines, news-related jargons and catchphrases used by the hosts.
2013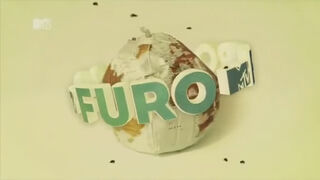 On its final year of broadcast, the show has undergone a new change in their visual identity. One reason for the change is the departure of Dani Calabresa in the previous year. The opening shows a fly flying until you reach a globe, which wilt and is involved with the word FURO, along with the MTV logo, forming the show logo.
Community content is available under
CC-BY-SA
unless otherwise noted.