This page only shows primary logo variants.
For other related logos and images, see:
Contents

2002–2004, February–May 2005
2004–2005
2005–2014; 2020–present
G4 (first era)
2002–2004, February–May 2005

G4TechTV
2004–2005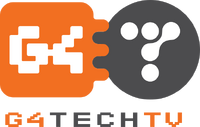 G4 (second era)
2005–2014; 2020–present
In late 2012, G4's studio programming was ceased in preparation for its relaunch as the Esquire Network on September 23, 2013, as part of a licensing deal with Hearst Corporation, owner of Esquire magazine. However, on September 9, 2013, news broke that NBCUniversal will instead replace Style with Esquire Network leaving G4 "as is for the foreseeable future, though it's highly unlikely the company will invest in more original programming".
With G4 slowly winding down operations, syndication rights to shows such as Cops, Heroes, and Lost ended at the end of August with the new television season, leaving G4 to only air repeats of their original series beginning on September 1, 2014. G4 shut down all operations on December 31, 2014. In September 2017, the Canadian version of G4 was also shut down.
On July 24, 2020, the Twitter accounts of G4TV and G4's Attack of the Show! and X-Play, two popular shows on the network deactivated to post a teaser video of a G4 revival in some form. The teaser included a number of references to the running jokes from the network's shows, It ends with an old-school television set playing on a game of Pong as a running gag with the game didn't actually didn't end at the closedown of the original channel, before being interrupted by the appearance of the G4 logo, the date 2021, and a tagline, "We never stopped playing" (meaning for the Pong game still going). IGN, the game and entertainment publication owned by j2 Global's Ziff Davis, also posted a version of the video (two minutes before the G4 account did). The teasers were timed for Comic-Con@Home, the first virtual streaming edition of the annual fan convention, San-Diego Comic-Con International.
Community content is available under
CC-BY-SA
unless otherwise noted.