Contents

19??-1999
1999–2010
2010–present
GLAAD
is an American non-governmental media monitoring organization founded by LGBT people in the media. Before March 2013, the name "GLAAD" had been an acronym for "Gay & Lesbian Alliance Against Defamation", but became the primary name due to its inclusiveness of bisexual and transgender issues.
19??-1999
1999–2010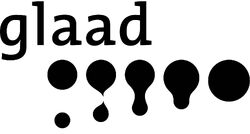 In October 1999, GLAAD got a new logo, created by Enterprise IG (now Brand Union).
"For me, the logo tells a story. A story about change, about movement. A story in which difference evolves into something greater than the sum of its parts. The mark is an emotional one for me. And the color - bold and at the same time, warm. It's a mark that speaks not to what we do or how we do it but rather to the benefit of our work: change. And importantly, change with a recognition of the critical role of process."
—Joan M. Garry, Executive Director of GLAAD (October 1999)
2010–present
In April 2010, GLAAD got a new logo, created by Lippincott.
"The new GLAAD identity is simple and clear; it plays off a recognized symbol for communication to represent the organization's programmatic work to empower LGBT people and allies to share their stories, hold the media accountable for the words and images they present, and help grassroots organizations communicate effectively. By ensuring that the stories of LGBT people are heard through the media, GLAAD promotes understanding, increases acceptance, and advances equality. Four separate color versions of the logo are in use, in vibrant orange, green, blue, and purple. This flexibility showcases GLAAD's range of work, from the GLAAD Media Awards to programmatic resources for media to report on LGBT issues. The colors express the diversity, energy and passion within GLAAD and the shape of the mark suggests movement, growth and momentum-all key ingredients in GLAAD's work to build support for full equality through the media."
—Press release
This logo placed 10th in the 2010 Brand New Awards.
External links
Community content is available under
CC-BY-SA
unless otherwise noted.