Rapid City Link
1978–1984

The Gatwick Express began as Rapid City Link Gatwick-London in 1978.
Gatwick Express
1984–1987

The non-stop service launched in 1984 and was invariably branded as Railair Link or Gatwick Express.
1987–1994

In conjunction with the new InterCity logo, Gatwick Express also received a new logo.
1994–2000
Gatwick Express was privatised in 1994 two years before the rest of the railway network. It officially became a franchise in 1996.
2000–2016

In 2009, the Gatwick Express franchise merged with the South Central franchise although it retained its own branding. In mid 2015, Gatwick Express (along with Southern) became part of the Thameslink, Southern and Great Northern (TSGN) franchise.
2016–present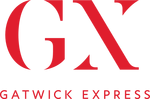 Community content is available under
CC-BY-SA
unless otherwise noted.