Launched in May 2004, Gemini News was the first 24-hour Telugu news channel. Due to 'insurmountable financial losses', it and Kannada sister channel Udaya News stopped all news programming in October 2017, but remained on air for several months before shutting down on 1 February 2019; Gemini News was replaced by Sun Bangla on 3 February.
2004–2019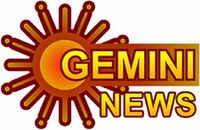 The Sun TV Network announced in August 2017 that it would axe its Kannada-language Udaya News division after 19 years[1][2], as it was not performing up to expectations, and due to the increasing competition by other news channels. (Udaya TV had broadcast news since 1998, while Udaya News, the full-fledged news channel, was launched in 2004.) A similar announcement was made for Gemini News in October 2017.[3]
All news programming on Gemini News stopped on 6 October 2017.[4] However, the channels themselves remained on air for several months, showing old shows of Gemini TV and Udaya TV, 'flashback' songs from old Kannada and Telugu movies and other variety programmes.
On 1 February 2019[5], Gemini News ceased transmission for good, and its frequency was used to launch Sun Bangla two days later.[6] Udaya News also stopped broadcasting on 1 February, and its frequency will be used to launch Sun Marathi later in 2019.[7]
References
Community content is available under
CC-BY-SA
unless otherwise noted.