Contents

1991-2005
2005-2011
2011-present
Globosat
1991-2005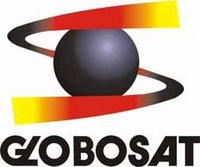 Globosat was created in 1991, as a pay television service via the Brasilsat II satellite in the C band. The company offered four exclusive channels in your line-up: Globosat News Television (GNT), Multishow, Telecine and TopSport. After the success of Globosat channels, these channels began to be displayed in other pay-TV operators, causing the part of Globosat offering the signing of its channels to become the NETSAT.
2005-2011

2011-present

Canais Globo
2020 (tentative)
This article or section lacks an upcoming logo at the moment.
You can help Logopedia by uploading it here.
As part of Grupo Globo's "Uma Só Globo" ("One Globo") restructuring, Globosat is merging with the TV Globo division, with the combined linear television division named Canais Globo ("Globo Channels"). Even though an official logo is yet to be revealed, Globo has been promoting its networks under the "Canais Globo" name since December 31st, 2019.
Community content is available under
CC-BY-SA
unless otherwise noted.