Gol Perú is a Peruvian cable television channel created in 2016 and is owned by the Grupo Plural TV in conjunction with Media Networks Latin América.
2016–2019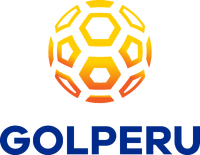 The first logo of the channel was twelve yellow-orange hexagons glued together like a transparent ball and below, the name "GOLPERU" in dark blue Galano Grotesk Bold typography.
2019–present

In 2019, the yellow ball logo is omitted, only keeping the word "GOLPERU" with the aforementioned typography.
Part of Grupo El Comercio and Grupo La República Publicaciones
---
Television stations
Peru: América Televisión (HD | TVGo) | Canal N | Gol Perú
Ecuador: Teleamazonas
Defunct: Fusión Gourmet | América Next
Next projects América TV Internacional
---
Current:

N Noticias

|

N Directo

|

De 6 a 9

|

Primero a las 8

|

Primero a las 12

|

N a las 10

|

N Portada

|

20 19

|

N Deportes

|

Tiempo de Leer

|

Agenda Política

|

Automundo

|

Rumbo Minero

|

Perú Construye

|

Contacto

|

Mundo Empresarial
---
Former: 2 a la N | Entre Líneas | Butaca N | Pascana | A Bocajarro | Patio de Letras | Al Ataque | No culpes a la noche | La Hora N | Rumbo Económico | 13 Hrs (sic) | Noticias a las 4 | Hoja de Ruta | Detrás de la Noticia | A esta Hora se Improvisa | Sentidos
---

Gol Perú original programming
Programs
Gol Perú Noticias | Gol Central | Gol Extra | Gol Replay | Compactos | Glorias del Fútbol | La Fecha | Momentos Gol | Tiempo Extra | Pase de Gol | Código Fútbol | 10x10 | La Entrevista | Fulbología
---
Events
Liga 1 | Liga 2 | Copa Bicentenario
---

---
Radio stations
Radio Disney | Radio América
---
Former assets:
Discos América | Americakidstv.com