Contents

2001–2004
2004–2009
2009–2019
UK Food
2001–2004

UK Food was launched on 5 November 2001.
UKTV Food
2004–2009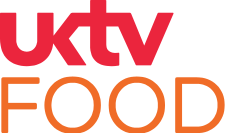 UK Food become UKTV Food in March 2004. The 2001 idents were kept, but the logo was changed.
Good Food
2009–2019
UKTV Food become Good Food on 22 June 2009. It was the last channel to be rebranded as part of a major relaunch of all UKTV channels done by Red Bee Media. On September 5, 2019, Discovery announced that Good Food would merge with the UK version of Food Network. Good Food ceased operations on September 12, 2019, with its programs moving to the sister channel.
"Red Bee Media has developed and positioned Good Food to appeal to food lovers and serious foodies with the end line "We have fun with food" and four idents that execute this theme while encapsulating viewers' universal love of food. Called Stir Fry, Wild Food, Dinner Party and Sunday Roast, these idents capture the energy, the fun and the social aspect that comes across when eating and preparing food." - Red Bee Media press release