Google Video
2005–2009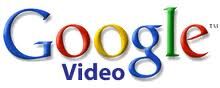 Google Videos
2009–2013
2009–2010

To encourage the transition to YouTube, which was acquired by Google in 2006, Google renamed the service Google Videos and stopped accepting new uploads, instead using the site as a search engine for videos.
2010–2013

2013–present
2013–2015

In 2013, the Google logo itself was modified to become 2D, with 'Videos' now appearing as raw text as Arial Bold, Google.com uses 'Videos' whilst the Australian, Canadian, New Zealand, and UK versions are all lowercase. Videos is also smaller and placed below the Google logo. The logo is very similar to the 2005 and 2010 logos.
2015–present

In 2015, Google and its other websites got their logos changed.