2005–present
2005–2010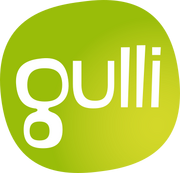 Gulli is a French television channel launched in November 18, 2005 and was owned by Lagardère and France Télévisions (until 2015).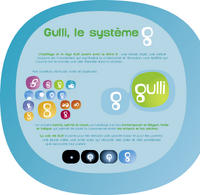 The identity for Gulli was developed by the French company Dream On.
The press kit that was released before the launch includes this explanation of the logo and the identity, entitled le système G ("the G system"):[1]
"The identity and logo of Gulli plays with the letter G: an initial object, a cell always in motion that symbolises growth and evolution, a window that opens to the world, an entry key to the channel..."
2010–2017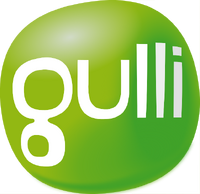 In April 8, 2010, Gulli started broadcasting in widescreen and introduced a new identity, created by Gédéon. The G from the logo was still in the center, but the graphics would now feature more live action and a more detailed computer animation modeling.
The logo stayed mostly unchanged, although it was given more depth and went through slight colour and gradient modifications.
2017–present
On August 28, 2017, Gulli gained a new look, made by 17MARS. This new look made the channel more colourful and vibrant. Its programming blocks (Gulli Go, Gulli Pop, Gulli Doo, Gulli Good, Gulli Toon, Gulli Goal and Gulli Club) have different colours in their logos (Black, Purple, Yellow, Pink, Orange, Blue and Gold respectively), similar to GulliGirl having its logo in pink, and the SVOD service, Gullimax, having its logo in orange. This rebrand caused an Arabic feed of the channel, Gulli Bil Arabi, to launch.