This article is about the suite of premium TV channels in Latin America. For the upcoming streaming service of WarnerMedia, see HBO Max.
Contents

1999-2003
2003-2010
2010-present
HBO Max is the brand used for the premium channels of HBO Latin America launched in 1999, using the current name since 2010.
HBO Digiplex
1999-2003

In 1999 HBO Latin America launched an dedicated brand for its premiums channels under the name HBO Digiplex, serving as the counterpart of the American "HBO The Works".
HBO Max Digital
2003-2010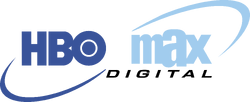 Alongside the launch of HBO Family and Max Prime as new TV premium services, HBO Digiplex is renamed HBO Max Digital.
HBO Max
2010-present

With the renewal of the HBO Max Digital package (namely, Cinemax passed to the basic TV system and the launch of Max in it place) in mid-2010, the logo is simplified using only the HBO and Max logos, dropping any other element present such the two arcs and the DIGITAL word, thus the system is renamed HBO Max. Furthermore now it is colored entirely black.
See also
Community content is available under
CC-BY-SA
unless otherwise noted.