Contents

1995–1998
1998–2014
2014–present
HBO 3
1995–1998
| | |
| --- | --- |
| | SVG NEEDED |
HBO Signature was launched as HBO 3 in 1995, which used a format similar to HBO and HBO 2.
HBO Signature
1998–2014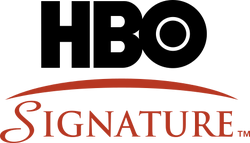 Typography: 
Amazone
Trajan Pro
In 1998, HBO 3 was rebranded as HBO Signature, with its format changed to target a female audience. It coincided with the "HBO the Works" expansion/rebrand.
2014–present

The new HBO Signature logo was launched on air in July 2014.
Part of AT&T

Pending spinoff and merger with Discovery, Inc.
---
Predecessor companies:
National Cleaning Contractors | Kinney Parking System | America Online | Warner Communications | Time Inc. | Turner Broadcasting System
---
WarnerMedia Studios and Networks
Warner Bros. Entertainment:
Content library companies: Turner Entertainment
WB Pictures Group:
Warner Bros. Pictures | Cartoon Network Movies | Castle Rock Entertainment | CNN Films | Flagship Entertainment | HBO Films | HBO Documentary Films | New Line Cinema | Spyglass Media Group18 | Wang Film Productions
WB Television Group:
Warner Bros. Television Studios (Warner Horizon Unscripted Television | Studio 2.0) | Alloy Entertainment | Blue Ribbon Content | HBO Entertainment | HBO Enterprises | HBO Kids | Max Originals | Telepictures | The Wolper Organization
WB Interactive Entertainment:
Warner Bros. Games | Warner Play | WB Games Boston | WB Games Montréal | WB Games New York | WB Games San Diego | WB Games San Francisco | Avalanche Software | Cartoon Network Games | Adult Swim Games | Monolith Productions | NetherRealm Studios | Portkey Games | Rocksteady Studios | Traveller's Tales
WB Kids, Young Adults and Classics:
Cartoon Network Studios | Warner Animation Group | Warner Bros. Animation (Classic Animation) | Williams Street Productions | Williams Street West

DC Entertainment:
DC Comics | DC All Access | DC Black Label | DC Collectibles | DC Horror | DC Kids | DC Universe Infinite | Mad
U.S. domestic television networks
Broadcast: The CW1
Turner Networks: TBS | TNT | truTV

Home Box Office, Inc.:
HBO (HD | OD) | HBO 2 (HD) | HBO Comedy | HBO Family | HBO Latino | HBO Signature | HBO Zone
Cinemax (HD | Go | OD) | 5StarMax | ActionMax | Cinemáx | MoreMax | MovieMax | OuterMax | ThrillerMax

WB Kids, Young Adults & Classics:
Boomerang | Cartoon Network (HD | Adult Swim | Cartoonito) | Turner Classic Movies
Other assets:
CartoonNetwork.com | Cartoon Network Books | Fandango (30%)4 (Flixster | Momlogic | Movies Anywhere | TCM Classic Film Festival Hollywood | Rotten Tomatoes | Vudu) | Warner Bros. Consumer Products | Warner Bros. Post Production Creative Services | Warner Bros. Sound | Warner Bros. Studios | Warner Bros. Technology | Warner Bros. Theatre Ventures | WaterTower Music | WB2B
---
WarnerMedia International
Television channels:
Adult Swim:
Canada2 | UK and Ireland3
Boomerang:
Asia | Australia | New Zealand | Brazil | Europe, Middle East and Africa | France | Greece | Japan | Latin America | Portugal | Romania | Russia | South Korea | Southeast Asia | Taiwan | Thailand | UK and Ireland
Boing:
Africa | France | Italy | Spain
Cartoon Network:
Africa | Arabic | Asia | Australia | Canada2 | Czech Republic | France | Germany | Greece | Hungary | India | Japan | Latin America (Brazil) | Middle East (English | Hindi) | Netherlands | Pakistan | Philippines | Poland | Portugal | Romania | Russia | South Korea | Southeast Asia | Spain | Sweden | Switzerland | Taiwan | Turkey | UK and Ireland (+1)
Cartoonito:
India and Pakistan | Italy | Middle East & North Africa | Turkey | UK and Ireland
Cinemax:
Asia | Central Europe (HD | 2 | 2 HD) | Latin America
HBO:
Asia: HBO (Hits | Signature | Family | Red17)
Europe: HBO (HD) | HBO 2 (HD) | HBO 3 (HD)
Latin America: HBO Pack (HBO | HBO 2 | Family | Signature | Mundi | Xtreme | Pop | HBO+)

TNT:
Africa | Europe | Latin America (TNT Series) | Nordic | Poland | Romania | Spain
TruTV:
Asia | Latin America | UK & Ireland
Turner Classic Movies:
Canada | France | Greece | Latin America | Middle East | Spain | UK and Ireland
Warner:
Asia | France | Germany (Warner TV Comedy | Warner TV Film | Warner TV Serie) | Latin America
Other Latin American networks:
Glitz | HTV | I-Sat | MuchMusic | Space | TBS

Other Asian networks:
India: Pogo | South Korea: JTBC and QTV | Japan: Mondo TV | Mondo Mah-jong TV | TABI Channel | Tabi Tele | Southeast Asia: Oh!K19
Warner Bros. International Television Production
Australia | Belgium (Eyeworks | Savage Film) | Germany | Netherlands (Blazhoffski | Hollands Licht) | Spain | UK (Renegade Pictures | Ricochet | Twenty Twenty | Wall to Wall)
Other assets:
Cartoon Network Latin America Original Productions | Hanna-Barbera Studios Europe | LazyTown Entertainment | Warner Bros. World Abu Dhabi
---
WarnerMedia Direct
HBO Max (Others) | HBO Go | HBO Nordic | HBO España | HBO Portugal
---
WarnerMedia Sales and Distribution
Distribution companies:
Warner Bros. Home Entertainment (Studio Distribution Services)21 | Warner Bros. Domestic Television Distribution | Warner Bros. International Television | Warner Bros. Worldwide Television Distribution
Otter Media:
Fullscreen | Gunpowder & Sky | Hello Sunshine | Rooster Teeth Productions
Other assets:
InJaus | iStreamPlanet | Xandr
---
WarnerMedia News & Sports
U.S. channels:
CNN | HLN | AT&T SportsNet | NBA TV | MLB Network (16.67%)5
AT&T Sports Networks:
AT&T SportsNet Pittsburgh | AT&T SportsNet Rocky Mountain | AT&T SportsNet Utah | AT&T SportsNet Southwest | Root Sports Northwest6
International channels:
CNN:
CNN en Español (US and Latin America, Spanish) | CNN Arabic (Arabic) | CNN Brasil7 (Portuguese) | CNN Chile (Spanish) | CNN Indonesia8 (Indonesian) | CNN-News189 (India, English) | CNN Philippines10 (English) | CNN Prima News11 (Czech) | CNN Türk (Turkish) | CNNj12 (Japanese)
TNT Sports:
Argentina | Brazil | Chile (HD, 2, 3) | Mexico
Estadio TNT Sports
Other assets:
Bleacher Report | Turner Sports
---
Former/defunct assets:
Adult Swim Video | AOL | Atari | Atlanta Braves | Atlanta Hawks | Atlanta Thrashers | Bamzu | Brut Productions | The Burbank Studios13 | Canais Esporte Interativo (1 | 2 | BR) | Cartoon Cartoons | Cartoon Network Productions | Cartoon Network Too | Cartoon Network Video | Cartoon Orbit | Cartoonito (France) | Cartoonito (Southeast Asia) | Cartoonito (Spain) | Castle Rock Entertainment Television | Charter Entertainment | Cheddar U | Chilevisión20 | CN Real | CNN+ | CNNfn | CNN Airport | CNN Sports Illustrated | Comedy Central | Crunchyroll22 | DC Ink | DC Vertigo | DC Zoom | Death Row Records | DePatie-Freleng Enterprises | E! | Hanna-Barbera Australia | The Essanay Film Manufacturing Company | Eyeworks | FilmStruck | Fine Line Features | Game Show Network14 | Geffen Pictures | Geffen Television | Hanna-Barbera | Hanna-Barbera Home Video | Hanna-Barbera Poland | Har Har Tharsdays | HBO (application) | HBO GO (US) | HBO GO (Latin America) | HBO Now | HBO/Cannon Video | HBO Defined (India) | HBO Downtown Productions | HBO en Español | HBO Netherlands (HBO 2 | HBO 3) | HBO South Asia (HD) | HBO Hits (India) | HBO Home Entertainment (Others) | HBO Independent Productions | HBO NYC Productions | HBO Savoy Video | HLN HD | WarnerFilms (Canada) | HOOQ15 | Hulu | Infinifilm | Kideo Video | KOL (AOL Kids) | The Ladd Company | Lorimar Home Video | Lorimar Television | Machinima | Metro-Goldwyn-Mayer (Others) | Midway Games | MTV | Nelson Entertainment | New @ 7 | New Line Home Entertainment | New Line Television | New Line Television Distribution | New Line Television Pay Per View | New York Cosmos | Nickelodeon | Orion Pictures | Panavision | Picturehouse | Prime Time Entertainment Network | Rankin Bass Animated Entertainment | Raw Feed | Ruby-Spears Productions | Seven Arts Associated Corporation | Seven Arts Television | Showtime Networks | Silver Screen Partners | Snowblind Studios | Studio T | Summer @ Seven | Super Deluxe | T.M. Productions, C.A. | TBS Productions | TNT Productions | TNT (Asia) | Ted Turner Pictures | Thorn EMI/HBO Video | Time-Telepictures Television | Time Warner Cable | Toonzai | Toonami (Asia) | Toonami (India) |France | TriStar Pictures (Others) | TCM 2 | Turner Classic Movies (Asia) | Turner Classic Movies (Europe) | Turner Classic Movies (Hungary) | Turner Classic Movies (Nordic) | TMZ | TNT (Benelux| Middle East | UK & Ireland )Turner Home Entertainment | TW Telecom | Upwave | VH1 | Warner-Amex Satellite Entertainment16 | VRV | Warner Bros. Digital Distribution | Warner China Film HG | Warner Independent Pictures | Warner Max | Warner Music Group | Warner-Nest Animation | Warner Premiere | Warner Premiere Digital | WB Channel (India) | WB Sport | WB Toy | World Championship Wrestling | WPCH-TV
---
Notes
1Co-owned by ViacomCBS.
2Licensed to Corus Entertainment.
3Licensed to Channel Four Television Corporation.
4Owns 30% with 70% being owned by NBCUniversal.
5Co-owned with Major League Baseball, Comcast, Cox Communications and Charter Communications.
6Owns 40% with 60% being owned by the Seattle Mariners.
7Licensed to Novus Mídia S.A.
8Co-owned by Trans Media.
9Co-owned by Network18 (Reliance Industries Limited).
10Co-owned by Nine Media Corporation and Radio Philippines Network.
11Joint venture with FTV Prima.
12Co-owned by TV Asahi.
13Was co-owned with Columbia Pictures.
14AT&T's stake in GSN was acquired by Sony Pictures Television in 2019.
15Joint venture with Singtel and Sony Pictures Entertainment.
16Acquired by Viacom in 1987, now owned by ViacomCBS.
17Joint venture with Mei Ah Entertainment
18Minority stake co-owned by Lantern Entertainment
19In partnership with Munhwa Broadcasting Corporation
20Sold to ViacomCBS
21Joint venture with Universal Pictures Home Entertainment
22Sold to Sony's Funimation Global Group