2010-2013
HCH started as a news program in several Honduran TV channels such as Canal 11 (Honduras) and Maya TV (Honduras). It was until 2010 when they launched the satellite signal and ran their own TV channel.
2013-2016
The word "TV Digital" was dropped from the logo, although it is still used for TV marketing ads.
2016-Present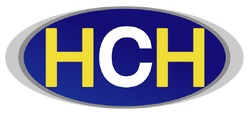 In 2016, a slight modification of the logo was made, with a flat version.