1997–present

Used on the books in the US, and on merchandise. The UK editions of the books do not use this logo.
2001–2002
This logo has been used for the first film of Harry Potter in 2001, Harry Potter and the Philosopher's/Sorcerer's Stone.
2004–2011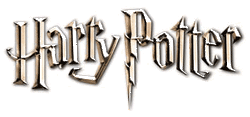 This logo was introduced with the third film, Harry Potter and the Prisoner of Azkaban, and it's still used now even with some differences for each film.