1897-1968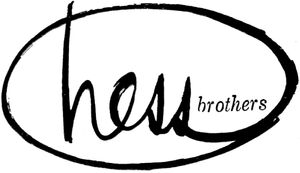 The Hess Brothers department store was opened February 19, 1897 by brothers Charles Hess and Max Hess, Sr. in Allentown, Pennsylvania. This first Hess's location would grow to encompass nearly an entire city block and was a dramatic success that included a restaurant, fashion shows, and elaborate Christmas displays. After the deaths of the Hess brothers, Max Hess, Jr. would oversee the company's continued success.
1968-1994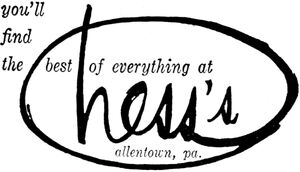 In 1968, Max Hess, Jr. sold the company to a local trucking businessman named Philip Berman for $16 million. Max Hess, Jr. died only a few months later. Under Berman, the company was renamed to Hess's and began to expand. After the 1968 name change to Hess's, a new logo was launched that resembled the original cursive "hess's" in a circle logo (seen below). This logo was used predominantly in advertising.
Hess's had reached 76 stores by its height in 1990, but due to economic issues, 46 stores were shed from 1990 to 1993.
Several were shuttered, while others were sold to Dillard's in 1992 and Proffitt's in 1993, all of which were changed to Belk in 2006.
The remaining 30 Hess's locations, primarily in Pennsylvania, would be sold off in 1994.
The May Department Stores Company bought 10 and converted them to Kaufmann's, Hecht's, and Filene's; all of which would later be rebranded in 2006 as Macy's.
The other 20, including the flagship Hess's store in Allentown and most of the early Hess's locations, were sold to The Bon-Ton and rebranded.
The original Hess's location, closed by The Bon-Ton after just one year, was later acquired by the city of Allentown and demolished in 2000.
Community content is available under
CC-BY-SA
unless otherwise noted.