Contents

2004–2006
2006–2010
2010–present
The Horror Channel
2004–2006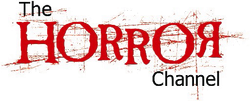 The Horror Channel was launched on May 3, 2004.
Zone Horror
2006–2010
In 2006, Zone Vision was renamed Zonemedia, and most of its channels were renamed under the "Zone" label. The Horror Channel was therefore renamed Zone Horror. New graphics for all the channels were created by Kemistry in London.
Horror Channel
2010–present

On April 5, 2010, Zone Horror is rebranded as Horror Channel, following the rebrand of the other Zone channels in the UK the previous autumn.