Hrvatski Telekom, also known as T-Hrvatski Telekom, is the leading telecommunications comapny in Croatia. It directly owns over 75% of Crnogorski Telekom in Montenegro. It has two competitors: A1 (formerly Vipnet) and Tele2.
Hrvatske telekomunikacije d.d.
1998–2004
| | |
| --- | --- |
| | SVG NEEDED |
Hrvatski Telekom
2004–2010

In 2004, Hrvatske telekomunikacije was restructured as Hrvatski Telekom and split into two companies: T-Com (fixed-line and Internet) and T-Mobile (mobile telecommunications).
2010–present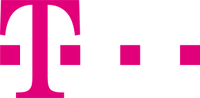 T-Mobile Hrvatska d.o.o. was fully integrated into Hrvatski Telekom on 1 January 2010. The T-Com and T-Mobile consumer brands were replaced by the Telekom brand.
External links