Contents

1971–1995
1995–present
2001 (unused)
Hungry Jack's is the Australian division of Burger King. The difference in the name is due to trademark issues with regards to an Australian burger restaurant that called itself "Burger King." Since the company was owned by Pillsbury, the chain adopted the name of the Hungry Jack brand of biscuits which was owned by Pillsbury. Hungry Jack's is today owned by Competitive Foods Australia.
1971–1995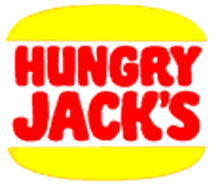 Founded on 19 June 1971, this logo, similar to the logo used by Burger King in May 1969, is two yellow-bun halves sandwiching the text but with the text reading "Hungry Jack's" rather than "Burger King".
1995–present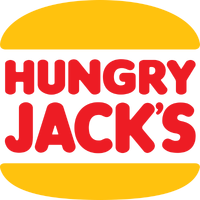 Introduced in 1995, this logo is a modified version of the previous logo. However, Hungry Jack's refused to change their logo in July 1999 and this logo is still in use as of today.
2001 (unused)
In 2001, the Hungry Jack's logo was redesigned to match the 1999 Burger King logo by Australian design firm Renelt Belic Design. However, it went unused as Burger King left the country in 2002.
Community content is available under
CC-BY-SA
unless otherwise noted.