Not to be confused with Intel Core i7.
2000–2003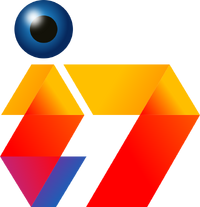 i7 dates back to March 2000, around the time of Seven Network's 2000 new year's rebrand to the "ribbon" which the current Seven logo is based off. In many ways, i7 is a precursor to Yahoo7: Seven's online portal in relationship with Yahoo!.
It was an online portal for search, news, mail, chat and content revolving around the Seven Network; with much of the brand being used as part of the web address to show websites. The network partnered with multiple holding companies local and abroad such as Ticketmaster.
Not much is documented about the portal aside from its relationships with NBCi and AOL and numerous accounts of the logo found on network end-boards. However, it is assumed the service was defunct around 2003, as there is no evidence of the logo being updated to the flat, split version of the ribbon. It was ultimately surpassed by Seven.com.au (now Yahoo7) in 2006.