This page only shows primary logo variants.
For other related logos and images, see:
Contents

2004–2006
2006–2013
2013–present
2004–2006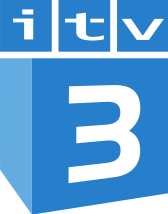 Typography: 
ITV - OCR-B (modified)
3 - Handel Gothic
ITV3 was launched on 1 November 2004. The ITV3 launch identity was created by Bruce Dunlop and Associates.
2006–2013
A new look for ITV1, ITV2 and ITV3 was introduced on 16 January 2006. It was created by Red Bee Media.
"Storytelling is at the heart of all ITV3 programming from Cracker through to Foyle's War. The idents for this channel are very filmic and intimate in nature and aim to give you a taster of a possible story unfolding. This is achieved through visual links between an object and its environment from with the viewer can interpret their own story. The series of idents capture the various moods that might be felt when watching ITV3 from mystery through to escapism. Sound design is also very atmospheric here and indicative of each particular story being told. The on-screen design for elements such as promo ends and menus is also based on this idea of storytelling and animations look like the pages of a book turning." - ITV press release[1]
This presentation package celebrated its fifth birthday in January 2011, being only package from 2006 rebrand still in use, and the longest surviving presentation package on any ITV channel since the introduction of the generic look in the late 1990s.
2013–present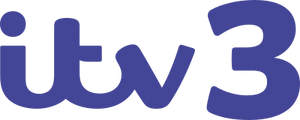 As part of the ITV rebranding on 14 January 2013, ITV3 received a "midnight blue" version of the 2013 ITV logo, establishing ITV3 as the "keeper of ITV's treasured and timeless drama". The new series of stop-motion animated idents feature glass bell jars with shadow-puppet style animated stories. [2]