This page only shows primary logo variants.
For other related logos and images, see:
Contents

2004 (unused)
2005–2013
2013–present
2004 (unused)
| | |
| --- | --- |
| | SVG NEEDED |
Prior to its launch, ITV4 used a similar logo to the other ITV channels at the time. The logo was not used as ITV planned to change their branding 2 months after the channel's launch.
2005–2013
ITV4 was launched on 1 November 2005, using the new ITV logo from the start & adopting it over two months before the rest of the network. The identity was created by Red Bee Media, with idents based on a concept of "collision of opposites", where one initial scene would be altered to become something different.
"As the newest addition to the family the creative proposition for ITV4 is based around "the collision of opposites" with the aim of the channel to alter the opinion of male viewers about ITV. The idents for this channel are each based on the concept that things aren't always as they seem and that appearances can be deceptive."
— ITV plc press release
The original idents were replaced by new computer animated ones in September 2007, made for ITV Creative and produced by Slinky Pictures; created and directed by Juan Garcia and co-directed by Michelle Yu.
2013–present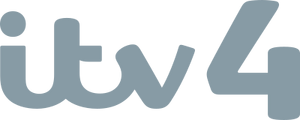 As part of the ITV rebranding on 14 January 2013, ITV4 received a slate-grey version of the 2013 ITV logo, establishing ITV4 as both the "home of sport and cult classics" and a "man club", with idents featuring viewer-nominated "dreams come true" (for example, driving a Rolls Royce into a swimming pool), & channel promotions including pub factoids.