ICA is a Swedish supermarket chain. It was founded in 1939 by four independent wholesale companies: Hakons, EOL, Nordsvenska Köpmannabolaget (NS) and Speceristernas Varuinköp (SV). The name is an abbreviation of Inköpscentralernas Aktiebolag.
During the first years, the four founding companies were still largely independent and continued putting their own names first.
1944–1964
Ever since the founding, there had been talk about having a logo for ICA at the stores. There was disagreement however, EOL, SV and NS wanted to use the ICA name, while Hakons preferred their own name.
A logo for ICA was approved in 1944 and came into use in 1945. Hakons did however refuse to use the new logo, and continued using their own logo until 1964.
The logo itself consisted of a blue filled circle with the letters I, C and A. Both the circle and letters had golden outlines. Underneath the ICA name, there was a small version of an emblem with the logos of the four founding companies. The emblem was omitted if a small version of the logo had to be used.
1964–present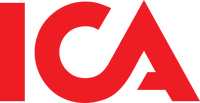 In the early 1960s, there was a discussion within ICA to adopt a new logo that would be used by all stores. The new logo was designed by Rune Monö and was adopted in 1964.
There were also other elements of the visual profile. The included a pattern made up of outlines of bottles, tubes and other packaging that was used on bags, in ads and on storefronts.
The new profile would remain with remarkably few changes over the following decades. Fonts and other visual aspects have changed over the years, but the logo remains exactly the same, as does the use of red and white as dominant colours.
For a period, the word "handlarna" was added underneath the mark for communication that came from the central Ica organisation. The practise ended in the late 1990s.
The individual stores had always had much freedom when it came their own visual profile. Most stores used their own local brand name first and foremost.
Since the late 1990s, most Ica stores have however been grouped into four profiles, based on store size:
Nowadays, most stores use the profile name most prominently, and many local names and logos have been phased out.