NWA: Total Nonstop Action
May–December 2002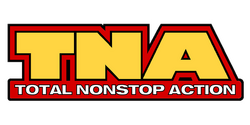 2003–2004
TNA Wrestling
2004–2008

2008–2010
January 2010

2010–2017

This logo made its official debut at Genesis 2010.
Impact Wrestling
March–August 2017
In March 2017 all references to TNA, including the overall company name, were changed to Impact Wrestling, to match the name of the main television show (which had itself rebranded in 2011).
Global Force Wrestling
July–August 2017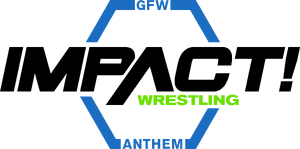 In July 2017 all references to Impact Wrestling, except for the main television show, were changed to Global Force Wrestling (or GFW in short). However, the company still used the Impact Wrestling logo (although slightly modified with GFW placed on top of the logo).
August–September 2017

In August 2017 GFW introduced a new company logo during their Slammiversary pay-per-view. Using the logo from the old Global Force Wrestling promotion.
Impact Wrestling (second era)
September 2017–January 2018
January 2018–October 2019
When Impact decided to drop the six-sided ring in favor of a traditional four-sided ring, the Impact logo was changed to remove the surrounding hexagon surrounding the logo and removing the GFW green in favor of blue.
October 2019–present

Following the move to AXS TV in October 2019, Impact Wrestling changed their color scheme from blue to red and the logo was updated to coincide with this change.
External links
Impact Wrestling
Shows:
Impact Wrestling |

Today

|

Xplosion
---
Pay-Per-Views:
Bound for Glory | Lockdown | Sacrifice | Slammiversary
---
Other
TNA Home Video | TNA Impact! | TNA Knockout Music
---