The Indian Premier League, or IPL, is an annual franchise-based Twenty20 cricket competition held since 2008 where Indian and international cricketers play for city-based franchise teams. It is generally held from April to May every year, with the exception of 2010 (12 March–25 April 2010) and 2019 (23 March–12 May 2019). It is always played domestically, except during the Indian general election in 2009 (when the entire tournament was held in South Africa) and 2014 (when the first two weeks were held in the United Arab Emirates).
The IPL has generally had eight franchise teams; there were ten in 2011 and nine in 2012–2013. Its most successful teams are Mumbai Indians (MI), which has four championship wins, and Chennai Super Kings (CSK), which has three.1 Moreover, the top four IPL teams per year were selected to play for the Champions League Twenty20 until that tournament was discontinued in 2015.
The IPL is one of the most valuable[1] sporting properties in the world, with a brand value of as much as US$6.3 billion in 2018. The league's success has spawned several similar T20 tournaments in other countries, most notably the Big Bash League and Women's Big Bash League in Australia. It is especially lucrative for the Indian host broadcaster, Star, which bought the television and digital rights for a five-year period in September 2017 for US$2.5 billion.[2] The TV rights-holder for the first ten years had been Sony Pictures Networks India.
2008
This logo, set in the Univers Condensed typeface, was used during the inaugural season in 2008. The tournament's title sponsor from then until 2012 was Indian real estate company DLF.
2008–present
This has been the template logo for all editions since 2009; it was introduced after the inaugural season ended. The corporate typeface of the IPL has been a modified version of Optima Bold ever since.
DLF IPL: 2009–2012
Pepsi IPL
2013
Pepsi became the tournament sponsor in 2013. The 2003–2008 Pepsi logo was used in the IPL logo. (Pepsi introduced its current 2008 logo in India only in January 2014, but this was not the case with neighbouring Pakistan, whose national cricket team was sponsored by Pepsi in the early 2010s, with team kits sporting the 2008 logo.)
2014–2015
Vivo IPL
2016, 2018–present
Chinese technology company Vivo became the tournament's title sponsor in 2016. Vivo is one of the most popular smartphone brands in India, along with sister company Oppo and Chinese competitor Xiaomi.
2017 (season 10)
Footnotes
CSK and Rajasthan Royals were suspended in 2016 and 2017, the interim teams being Gujarat Lions and Rising Pune Supergiant.
References
Current franchises:
---
---
---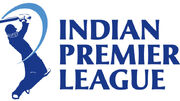 Community content is available under
CC-BY-SA
unless otherwise noted.