Contents

1992-1994
1994-1998
1998-2003
2003-2008
 
2008-2016
2011-2016
2016-2018
2018-present
Rainbow 5
1992-1994
Indigo was originally Rainbow 5, and was the first Rainbow route.
1994-1998

The number five changed the styling and colour.
1998-2003

The logo changed a bit, and the number five was changed slightly with a new colour.
2003-2008
This bus got a huge change, the Excels turned into Solars, with new features: bigger buses, more seats, leg room, space age technology, audio announcements, real time tracking, and a new timetable. This was the first bus to have the 2002 Trent Barton livery.
Indigo
2008-2016 
Rainbow 5 got a stylish makeover, with new Eclipses, and more new features: air-con, a new name, leather seats, and an updated timetable.
2011-2016

Starting in late-July 2011, Indigo runs all day, every day and is the first bus to run 24/7.
2016-2018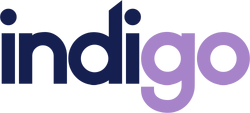 All the Indigo buses got a major makeover and the frequency went from every 6-7 minutes - to every 5 minutes, and now, every 10 minutes to improve reliability. In 2018, the colour looked a bit darker.
2018-present

Community content is available under
CC-BY-SA
unless otherwise noted.