N M Electronics
1968
As confirmed, Intel has no actual logo for it's former name since this name was only used for a month and was later quickly changed to "Intel" or Integrated Electronics.
Intel
1968–2006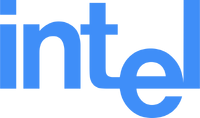 Used on standalone processors.
2006–present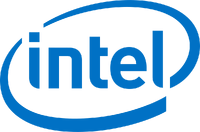 On Christmas Eve 2005, Intel phased out the original corporate Intel and Intel Inside logos in favor of a new base Intel logo, clearly inspired by the older Intel Inside logo, but omitted the word "inside". While the logo and new slogan, Leap ahead, were unveiled in December 2005, they were officially introduced on January 3, 2006.[1]
The typeface was changed to Neo Sans Intel, a modified version of Neo Sans by Monotype. In some instances, the slogan "Leap ahead" was added to the corporate logo. The slogan was retired around 2010.
The typeface was changed in 2014, as part of a company-wide change, from Neo Sans Intel to Intel Clear, designed by Red Peak Branding and Dalton Maag.
See also
External links
References
Community content is available under
CC-BY-SA
unless otherwise noted.