Contents

2003–2006
2006–2007
2007–2008
2008–2009
2009–2013
2003–2006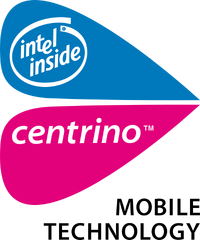 Intel launched the Centrino mobile platform brand in March 2003. Centrino-branded systems were based on the then-newly-launched Pentium M processor and Intel wireless networking modules.
2006–2007
In 2006, Intel dropped the words "Mobile Technology" from the Centrino logo. Centrino Duo branding was used on systems based on the Core Duo and Core 2 Duo processors.
2007–2008
2008–2009
2009–2013
In 2011, Intel discontinued Centrino as a consumer-facing mobile platform brand, with the brand carrying over to Intel's wireless modules, without a logo of its own, and it was replaced by Ultrabook in 2011.
The Centrino brand was ultimately discontinued in 2013.
See also