ideo Productions
2006-2011

In April of 2006, film student Jonathan Paula founded ideo Productions as a new media production company for producing web video. Although not well known at the time, ideo would soon become a common name across YouTube.
Jogwheel Porductions
2011-present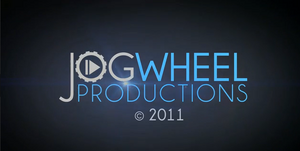 On August 9th, 2011, President of ideo Productions, Jonathan Paula, announced in a video titled "My Clone Is an Idiot! --(The Future of ideoProductions)". In it, Jon announced in a comedic way with a "clone" of himself that ideo Productions "decided that a clean slate and a re-branding was in order". And that "no one could really pronounce the last name anyway..." He stated that ideo would then be known as "Jogwheel Productions". This is its current name as of now. He also stated that it better helps fit the JP in the YouTube accounts name.
Trivia
"ideo" is the late word for "idea". And the ")))" following the ideo logo represents sound. Paula jokingly stated that it's technically named "ideo and sound productions".
A Jogwheel is a wheel on old editing systems used by editors to scrub the timeline of a video before the age of computer video editing.
Community content is available under
CC-BY-SA
unless otherwise noted.