Jollibee's Express Delivery
1980–1996
| | |
| --- | --- |
| | A better version of this logo is needed, due to the picture quality, inaccuracies or other issues with the uploaded logo. You can help Logopedia by uploading it here. |
The logo in 1980-1996 was Jollibee is on the car and the text "Just minutes away!!!" was used the Kaufmann typeface.
Jollibee Delivery
1996–2016
1996–2011
| | |
| --- | --- |
| | A better version of this logo is needed, due to the picture quality, inaccuracies or other issues with the uploaded logo. You can help Logopedia by uploading it here. |
2011–2013
On 2011, the text below name "Jollibee Delivery" changed name "8-7000" with the 2011 Jollibee face replacing the 1996 face.
2013–2016
The logo was modified in 2013, with the Jollibee face holding a cellphone instead of a telephone.
2016–present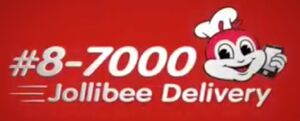 In 2016, Jollibee changed its delivery hotline to #8-7000 (Pronounced as hashtag eight seven thousand) now nationwide. The Jollibee face now holds a smartphone instead of a cellphone.
Community content is available under
CC-BY-SA
unless otherwise noted.