WTCN-TV
1953–1956
1956–1957
1957–1971
1971–1979
A nearly-identical logo was used during that period by then-sister station KTTV in Los Angeles, CA for Metromedia, Inc.
1979
On March 5, 1979, WTCN-TV switched the affiliation from independent to NBC.
1979–1983
1983–1985
The 11 used in this logo has been retained since then.
WUSA (-TV)
1985–1986
The WUSA call letters lasted only one year on this station; as GANNETT (and now TEGNA) would move the calls to the former WDVM-TV in Washington, D.C. on July 4, 1986. This Callsign goes to Channel 25 from WHAG-TV.
KARE
1986
1986–1990
1990–1993
1993–1996
1996–1998
1998–present
Video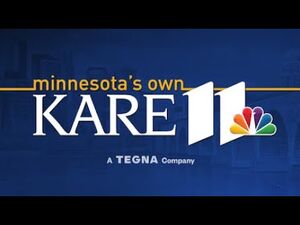 TV stations in Minneapolis-St. Paul