Not to be confused with Columbia Pictures Television.
KCSD
1961–1965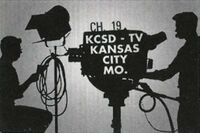 1965–1972
KCPT
1972–1983
1983–1985
1985–1989
1989–2016
In 1989, KCPT debuted what would be their longest lasting logo thus far. Starting in 2000, the PBS "P-Head" was added to the logo.
2016–2020
On February 9, 2016, KCPT introduced a simple design featuring lowercase KCPT letters next to the PBS logo; above that are some teal-colored wavy lines. The name "Kansas City PBS" was also adopted.
2020–present
TV stations in Kansas City
Community content is available under
CC-BY-SA
unless otherwise noted.