For the Australian television network, see Nine Network.
1954–196?
In 1954, Missouri PBS member station KETC-TV was founded and owned by St. Louis Regional Public Media. And the logo looks like a movie theater tape, with each of the letters that make "KETC" are each put in a circle, and the text says "Channel 9 ST. LOUIS".
196?–1969
We don't know when KETC had it's logo rebrand, but we did know that it lasted until 1969. The logo looks like a movie sign, but black and white.
1969–1976
The logo had a rebrand in 1969 all the way through 1976. The logo's look is almost similar to Meridian, (which was launched 24 years later in 1993) but the outside is filled with colors of the as shown.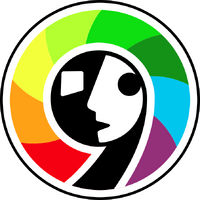 1976–1978
In 1976, the logo changed it's looks...again. This time, the font is set to Cooper Black, with a long black drop shadow. This was only used in national programs.
1978–1988
In 1976 through 1988, they changed its logo to a number 9.
1988–1991
They rebranding there previous 9 symbol for the first time after a decade.
1991–2010
The headquarters still uses this logo on the building.
2010–2021
2021–present
---
Defunct station: