1988–1996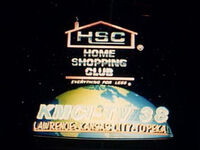 KMCI (originally owned by Miller Television) signed on for the first time on February 13, 1988 with programming from the Home Shopping Network. Starting in 1995, KMCI began broadcasting a minimal amount of syndicated sitcoms, cartoons, and other programming (in addtion to its HSN schedule).
1996–2002
In the summer of 1996, Scripps-Howard Broadcasting (owner of NBC affiliate KSHB-TV) began to manage KMCI under a local marketing agreement, and started to program what would be known as "38 Family Greats" from 6 a.m. to midnight, while retaining its HSN programming overnight. KMCI was also the fourth and final station in Kansas City to carry Fox Kids (later Fox Box and 4Kids TV) programming from 1999 to 2008.
2002–2003
In 2002, KMCI dropped the name "Family Greats" and simply went under the title of its station number. Then in July 2003, the station officially became known as "38 the Spot".
2003–present
TV stations in Kansas City
---
Defunct station:

TV stations in eastern Kansas, including Topeka