1968–1970
1970–1978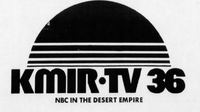 1978–1989
1989–1995
1995
1995–2000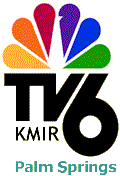 Based on the logo used by WDSU from 1977 to 1988.
2000–2004

2004–2012
2004–2008
2008–2012
2012–2013

2013–2018

KMIR discontinued its cable-centric "6" branding in December 2013, following the completion of Journal Communications' sale of the station to OTA Broadcasting.
2018–present
This logo is based on the design originally used by KNTV in San Jose.
TV stations in Palm Springs, California and the Coachella Valley