Not to be confused with KPTM.
KSAN-TV
1954–1958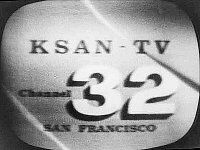 Originally signed on as KSAN-TV in 1954, on June 21, 1958, it went off the air until Metromedia purchased the station and license and renamed it as KNEW-TV to match its co-owned KNEW radio and to complement its flagship station in New York City, WNEW-TV (now Fox owned-and-operated WNYW).
KNEW-TV
1968–1970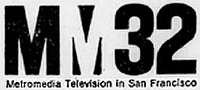 KQEC
1970–1977
| | |
| --- | --- |
| | LOGO MISSING |
Metromedia sold KNEW-TV to local public broadcaster KQED and became KQEC in 1970. KQED continued to own KQEC until 1988 when the FCC ruled that it had been off the air too long to remain in the hands of KQED ownership (KQED kept KQEC off the air for most of 1972 through 1977, and then again for several months in 1979-80), and reassigned the license to Minority Television Project, one of the challengers of the KQEC license.
1977–1988
1988–1991
| | |
| --- | --- |
| | LOGO MISSING |
KMTP-TV
1991–2016

2016–present

TV stations in the San Francisco Bay Area