2012–present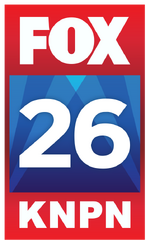 KNPN-LD launched on June 2, 2012, with Fox programming on its main channel, a simulcast of News-Press 3 NOW on digital channel 26.2, The CW on digital channel 26.3 and Telemundo on digital channel 26.4. KNPN-LD will become the third television station to be licensed to the St. Joseph market, after ABC affiliate KQTV (channel 2), which launched on September 27, 1953 as a CBS affiliate and Trinity Broadcasting Network O&O KTAJ-TV, which signed on in August 1986. The station replaces WDAF-TV/Kansas City as the default Fox affiliate for the market on Suddenlink Communications, Dish Network and DirecTV (though it will still be viewable over-the-air as its receives Grade B signal coverage in much of the St. Joseph area).
TV stations in St. Joseph, Missouri
Community content is available under
CC-BY-SA
unless otherwise noted.