The station's former branding, "KONG 6/16", refers to its carriage on channel 6 on local cable systems in the Seattle area and its over-the-air digital/virtual PSIP channel 16. It signed on the air on July 8, 1997. It was locally owned, but managed by KING-TV (which had just been acquired by Belo alongside the rest of King Broadcasting) through a local marketing agreement. The KONG call letters were retained as a tongue-in-cheek reference to King Kong, which made both stations easily marketable together. Belo bought channel 16 outright in 2000, when the FCC began to permit television station duopolies.
KONG is also the only television station owned by Tegna that is not affiliated with any major broadcast network.
1997–2005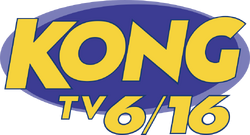 The "6/" part of the logo was not used initially.
2005–2016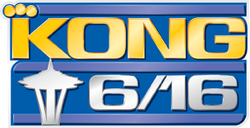 2016–present

External links
TV stations in the Puget Sound region, including Seattle, Tacoma, and Everett