KBLU-TV
1963–1967
1967–1973
| | |
| --- | --- |
| | LOGO MISSING |
1973–1978
KYEL-TV
1978–1984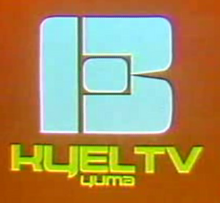 1984–1991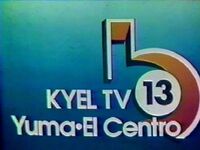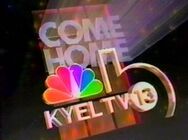 1991-1994
| | |
| --- | --- |
| | LOGO MISSING |
In 1991, KYEL swapped affiliations with KYMA and took the ABC affiliation.
KSWT
1991-1996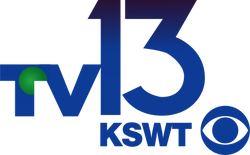 The "13" in this logo is similar to the one used by KERA-TV in Dallas-Fort Worth-Denton, Texas in 1985, WHBQ-TV in Memphis, Tennessee in 2006, and WTVT in Tampa-St. Petersburg, Florida in 1989.                   
In 1994 KSWT switches from ABC back to CBS when KECY-TV flipped to Fox (alongside its then-sister stations) leaving Yuma and El Centro without an ABC affiliation. Was also a Telemundo station during overnight hours.
1996–1998
| | |
| --- | --- |
| | LOGO MISSING |
1998–2001
2001–2006
2006–2013

2013–2020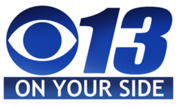 As of 2020, the station exists as KYMA-DT which moved to channel 11 while CBS remained on channel 13. Also the station re-gained its NBC affiliation after the original KYMA was folded.
TV stations in Mexicali and the Imperial Valley (including Yuma, Arizona and El Centro, California)
---
Defunct stations: