1982–1986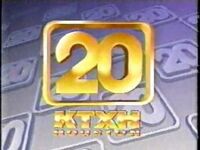 1986–1993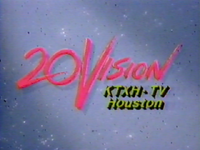 While KTXH had been known as "20 Vision" since its sign-on in 1982, the logo was changed to fully reflect the branding in 1986. The change was gradual, as several elements still used the old-style "20" logo through most of 1986. Taft Broadcasting sold its independent and Fox-affiliated stations (including KTXH) to the TVX Broadcast Group in February 1987. Paramount Pictures purchased a stake in TVX in two phases from 1989 to 1991, which would later become the Paramount Stations Group.
1993–1995
This station's branding is known asParamount 20, with the logo design shared with then-sister stations KTXA and WDCA.
1995–1998, 1998–2001 (primary)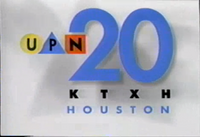 1998–2001 (secondary), 2001–2002

In 2001, Fox Television Stations traded KBHK (now KBCW) to Viacom for KTXH and WDCA, thus KTXH became sister stations with Fox O&O, KRIV.
2002–January 2006
2006
January–June 2006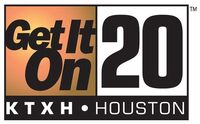 Following the announcement of the shut down of UPN (whose programming would be merged with The WB to form The CW), all Fox-owned UPN stations, including KTXH, dropped the UPN name and logo from their on-air branding. KTXH replaced the UPN logo seen in the tan box with the station's slogan "Get It On".
June 2006–2018
2018–present
In September 2018, KTXH revived its "20 Vision" moniker after a 25-year absence, modified to reflect its MyNetworkTV affiliation.

Defunct stations: