This article is about the Indian movie channel owned by the Sun TV Network. For the Indonesian channel owned by Kompas Gramedia, see KTV.
K TV (Kondattam TV) is an Indian Tamil-language movie channel owned by the Sun TV Network, which launched on 22 October 2001. Other Sun movie channels contain the word Movies in their name, namely:
Its competitors include Vijay Super and Zee Thirai, as well as Raj Digital Plus, Mega 24 and J Movie.
2001–present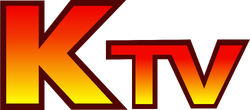 An HD feed was launched on 11 December 2011, with Tamil-language sister channels Sun TV and Sun Music and Telugu sister channel Gemini TV also launching HD feeds on that day, making them the first regional-language (non-Hindi-or-English) HD channels in India.
The next regional-language HD movie channels were launched five years later: Jalsha Movies HD in Bengali by Star, and Zee Talkies HD in Marathi by Zee.