Department of Information
1945-1999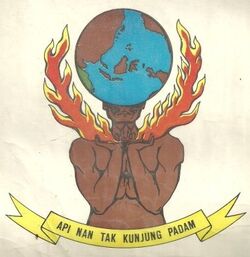 The logo depicts a silhouette of a man upholding a globe with fire on his hand. The slogan below reads "Api Nan Tak Kunjung Padam" (Everlasting Fire).
In 1999, the Department of Information was dissolved due to its connotation as the "propaganda tool" of Suharto regime.
Ministry of Communication and Informatics
2001-present
Community content is available under
CC-BY-SA
unless otherwise noted.