1968–1985, 2014

1968–1975, 2014
1975–1978
In 1975, the letters were rounded and outlined in purple, with a marquee added.
1977–1985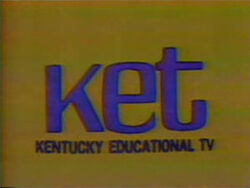 In 1977, the 1968 logo was reinstated, yet it was only used on its GED-based programs.
197?–1978
1978–present
1978–1980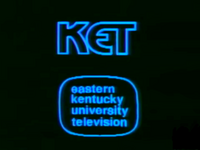 1980–present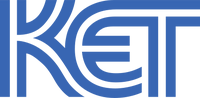 In 1978, a new logo was introduced, although the 1968 KET text was still used on GED-based programs until 1985. In the 1987-1993 KET theme, the Roland D-50 PN-D50-00 patch "Horn Section" was heard.
TV stations in Louisville, Kentucky
---
Defunct station:

TV stations in the Illinois-Indiana-Kentucky Tri-State Area, including Evansville, IN and Owensboro, KY
---
Defunct stations:

TV stations in South Central Kentucky (Bowling Green/Glasgow)
TV stations in the Jackson Purchase and Southern Illinois,
including Paducah, Kentucky and Cape Girardeau, Missouri
Television stations in Southeast Ohio, Western West Virginia and Eastern Kentucky, including Huntington and Charleston, West Virginia
TV stations in Central Kentucky, including Lexington
---
Defunct stations: