Kids "R" Us was a chain of children's clothing stores owned by Toys "R" Us. However, some Toys "R" Us stores kept the chain alive by carrying it in one of their aisles until it went bankrupt in 2018.
1983–1985
| | |
| --- | --- |
| | SVG NEEDED |
Founded in February 1983. Just like the Toys "R" Us' logo, the logo also contained 7 characters: the K, the I, the D, the first S, the backwards R, the U, the second S.
1985–1998

In 1985, the logo's color scheme was finalized with the K in red, the I in green, the D in blue, the first S in pink, the backwards R in yellow, the U in green and the second S in red.
1998–2004 (alternate logo)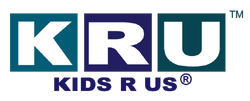 Because of Toys "R" Us' logo being modified on September 1, 1998, Kids "R" Us adopted this logo and it was used in its final years/days. For rights reasons, it doesn't use a backwards R at all. The chain folded in January 2004 after the retailer suffered deteriorating same-store sales and to focus more on the Toys "R" Us brand.