Ponchivisión
2001-2003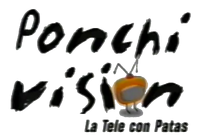 It started broadcasting in 2001 as a comedy channel called Ponchivisión. Produced by Televisa in joint-venture with Mexican comedian Andrés Bustamante. It was only available on Cablevisión and Sky cable systems.
| | |
| --- | --- |
| | SVG NEEDED |
Canal de las Estrellas -2 Horas
2003-2016
2003-2007
In 2003, the closure of Ponchivisión was decided by mutual agreement, for which reason the signal where it was transmitted was occupied by the timeshift version of El Canal de las Estrellas.
| | |
| --- | --- |
| | SVG NEEDED |
2007-2010
| | |
| --- | --- |
| | LOGO MISSING |
2010-2014
| | |
| --- | --- |
| | SVG NEEDED |
2014-2016
| | |
| --- | --- |
| | LOGO MISSING |
Las Estrellas -2 Horas
2016-present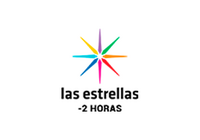 | | |
| --- | --- |
| | SVG NEEDED |