Life is an Indonesian Christian television channel broadcasting in MNC Vision. It was launched in 2009 to replace the international Christian TV network, TBN.
2009-present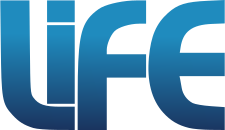 Part of MNC Media
---
Current channels:
General Entertainment: MNC Entertainment, Comedy Channel, Drama Channel, Infotainment | News & Current Affairs: MNC News, IDX Channel1 | Movies: Movie Channel, Premiere Channel | Music: Music Channel | Sports: MNC Sports, Soccer Channel | Kids: Kids Channel, Besmart | Lifestyle: Lifestyle & Fashion, Travel & Homes, Auto & Gadget, MNC Shop2 | Religious: Hidayah, LiFE | International: MNC Channel
---
Former channels:
MNC World News | Golf Channel3 | Karaoke Channel4 | Health Beauty | Extreme Channel
---
Notes
1Co-owned with Indonesia Stock Exchange.
2Co-owned with GS SHOP.
3Co-owned with NBCUniversal International Networks, now handled by Transvision.
4Cancelled


Community content is available under
CC-BY-SA
unless otherwise noted.