2010–2011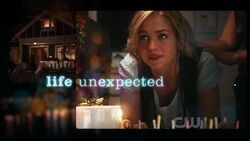 This series logo aired from January 18, 2010 to January 18, 2011.
After they conclude 26 of this episode, then on December 6, 2010 the series will not be returning for a third season after two seasons.
Life Unexpected: The Complete First and Second Season was release from DVD on April 22, 2011 after the cancellation.