This page is for requesting conversion of a raster file (JPEG, GIF, PNG) to an SVG or fixing an SVG that is broken or misdrawn.


What is SVG?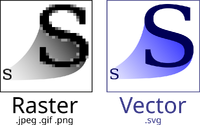 SVG, short for Scalable Vector Graphics, is a vector image format that has been in existence since 1999. These images are defined in XML text files and are compatible with all major web browsers. Unlike raster file formats (JPEG, GIF, PNG), which are made of pixels of various colors, SVGs are made of code that define lines and specify colors used. The difference between the two are more pronounced when they are zoomed in, as shown in the image to the right. Logopedia prefers SVG logos because they provide the highest possible quality over other file types.

To add a request, click the button below:
Current Requests
See also: Pages with SVG needed
Community content is available under
CC-BY-SA
unless otherwise noted.