Long John Silver's Fish n' Chips
1969 (Unused)

| | |
| --- | --- |
| | SVG NEEDED |
Long John Silver's was going to be called "Long John Silver's Fish'n Chips" before it was founded in 1969. The name was never used.
Long John Silver's Seafood Shoppes
1969–1984

Long John Silver's was founded on April 16, 1969 in Lousiville, Kentucky as Long John Silver's Seafood Shoppes. It was used in fewer locations until the "Seafood Shoppes" name was dropped in 1984.
Long John Silver's
1984-1989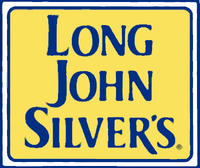 1989–2001
2001–2011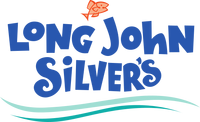 This logo was used during the Yum! Brands era, It is still used at some locations.
2011–2012
On February 3, 2011, Yum! Brands made Long John Silver's independent so they launched a new logo, and a new slogan, "We Speak Fish". 
"What better way to signal change and the brand's bright future than through a new logo and message? Our new logo projects a bold and confident look, indicating a more contemporary Long John Silver's."
— John Villanueva, Chief Marketing Officer, in a presentation video.
2012–2017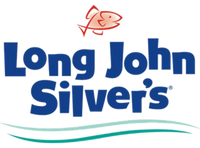 On September 25, 2012, the 2011 logo was quickly abandoned in favor of a slightly edited 2002 logo. The slogan is "That's What I Like".
2017–present
In front of 400 people, The logo was unveiled with a formal font, and a new fish design, that's a mix of the 2011 and 2012 logos, though the fish looks more like the 2012 logo, while the text is the formal version of the 2012 logo. It was designed by Lippincott. [1] Their current slogan is simply "Fish Yeah!"
References
Community content is available under
CC-BY-SA
unless otherwise noted.