2012-2020
2012-2019, 2019-2020 (secondary)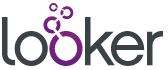 2012-2020 (print), 2019-2020 (primary)
This logo and the other 2012 logo are still used in some websites.
2020-present

On June 6 2019, Google announced that they were acquiring Looker, with the buyout being completed in February 2020. A few months after that, Looker updated their logo into the style to many other Google properties.
Community content is available under
CC-BY-SA
unless otherwise noted.